Happy Hunting!
There are 2 Pokestops at the coffeeshop, plus another 4 Pokestops right nearby, and a Gym on 5th street. Bring your smartphone downtown and enjoy a cold brew or new Tiramisu Blender while you take advantage of Shelbyville's best Pokemon location. We'll be setting off lures from time to time to help increase your odds of finding something legendary.
Featured Drink: Tiramisu Blender
This drink's got layers! A delicious espresso blender with layers of whipped cream and a powdered cocoa dusting.


Featured Drink: Cold Brewed Iced Coffee
What's so great about Cold Brewed coffee? With cold brewing, we use time instead of heat to extract all the delicious coffee flavor from our beans. It takes 18 hours to make a batch, but the result is a deliciously smooth, sweet beverage with rich coffee flavor, and much less acid than in traditional hot brewed coffees. It's great over ice, with a splash of milk or cream.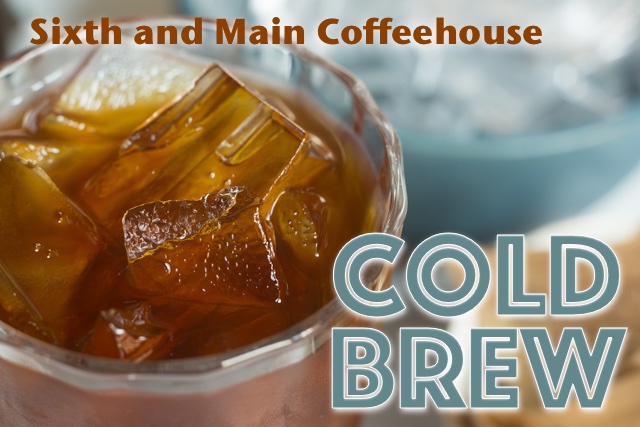 Sixth and Main Coffeehouse Presents: KY Artists and Authors
---
Original works will be for sale at each event.
Dates/times subject to change.
Contact kathryn@6amcoffee.com to discuss booking your event at Sixth and Main Coffeehouse.



Smashing Success: World's First Competitive Fiction Event
On June 25, 2016, sometime around 11:00 a.m. WT (writer's time, which was closer to 12:15 Eastern Standard Time), Sixth and Main Coffeehouse hosted the first ever, first annual Author's 5k, a unique race to see who could write 5,000 characters quickest and with the most creativity.

Four fierce competitors pounded away on the keyboards of their laptops for over an hour before the first contestant reached the 5k goal. During the two-hour long event, two works of fiction were completed, four new coffee drinks were invented, and all the contestants made serious progress on completely new stories.

The competitors were:
Rebekah Caldwell (Winner: First to 5,000 characters, and Most Engaging Story)
Kelsey Hodge (Winner: Best New Coffee Drink)
Kai Doane (Winner: Most Creative Story)
Gwen Wethington (Winner: First Finisher)
Extra Special thanks to:
Joey Pusateri, Master of Ceremonies for the event
Sara Giza, Official Judge of the Author's 5k
Kathryn Griseto, Event Coordinator for Sixth and Main Coffeehouse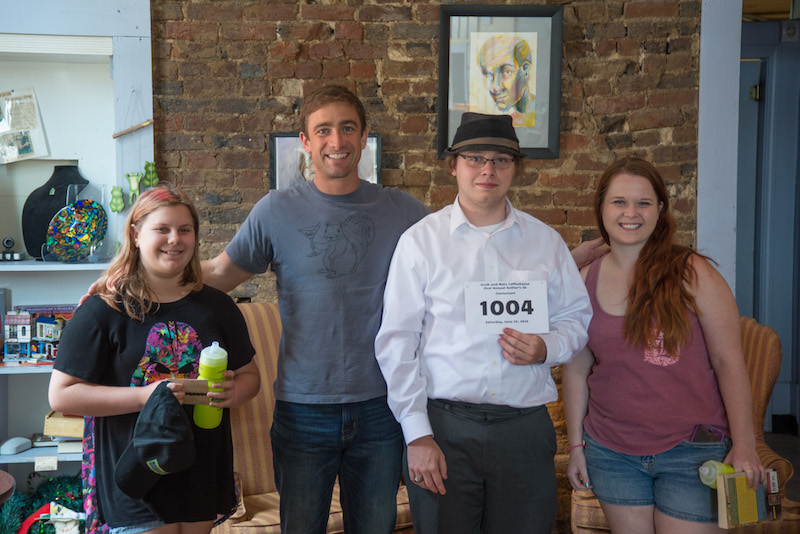 After the meet: Kelsey Hodge, Joey Pusateri, Kai Doane, and Rebekah Caldwell.


Fresh-roasted coffee tastes better!
When we find green coffee beans that we like, we roast very small batches right here in Shelbyville to enhance those special characteristics that we think make for a truly delicious coffee experience, and to ensure that we're brewing and drinking the coffee when it's at its peak of freshness and flavor. Try one of our fresh roasted coffees in a brewed-just-for-you V60 or a Chemex today.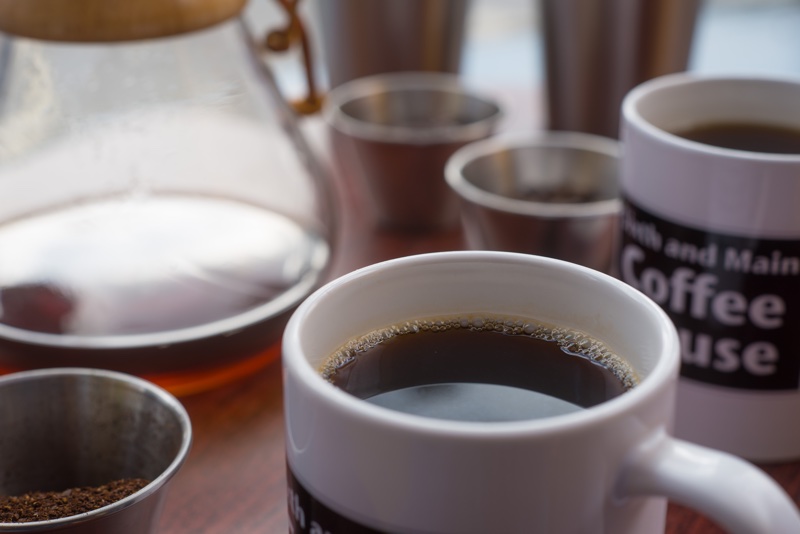 Featured Drink: The Cupcake Blender
A blended frozen treat, that tastes like cupcakes and comes with whipped cream and sprinkles on top! Available in 16 and 24 ounces, for a limited time!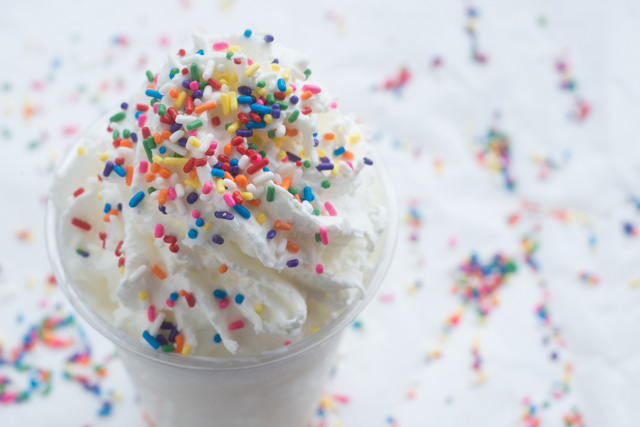 SOLD OUT: The Spinal Tap
Your regular coffee is a solid 10, but we've created a drink to give you that extra push over the cliff. This extremely-limited-edition* beverage commemorates our eleventh anniversary with six shots of espresso, eleven pumps of chocolate, loads of steamed milk and more real whipped cream than a clown pie at the circus, all for $8.95.
*Seriously. We only bought 25 of these cartoonishly large cups.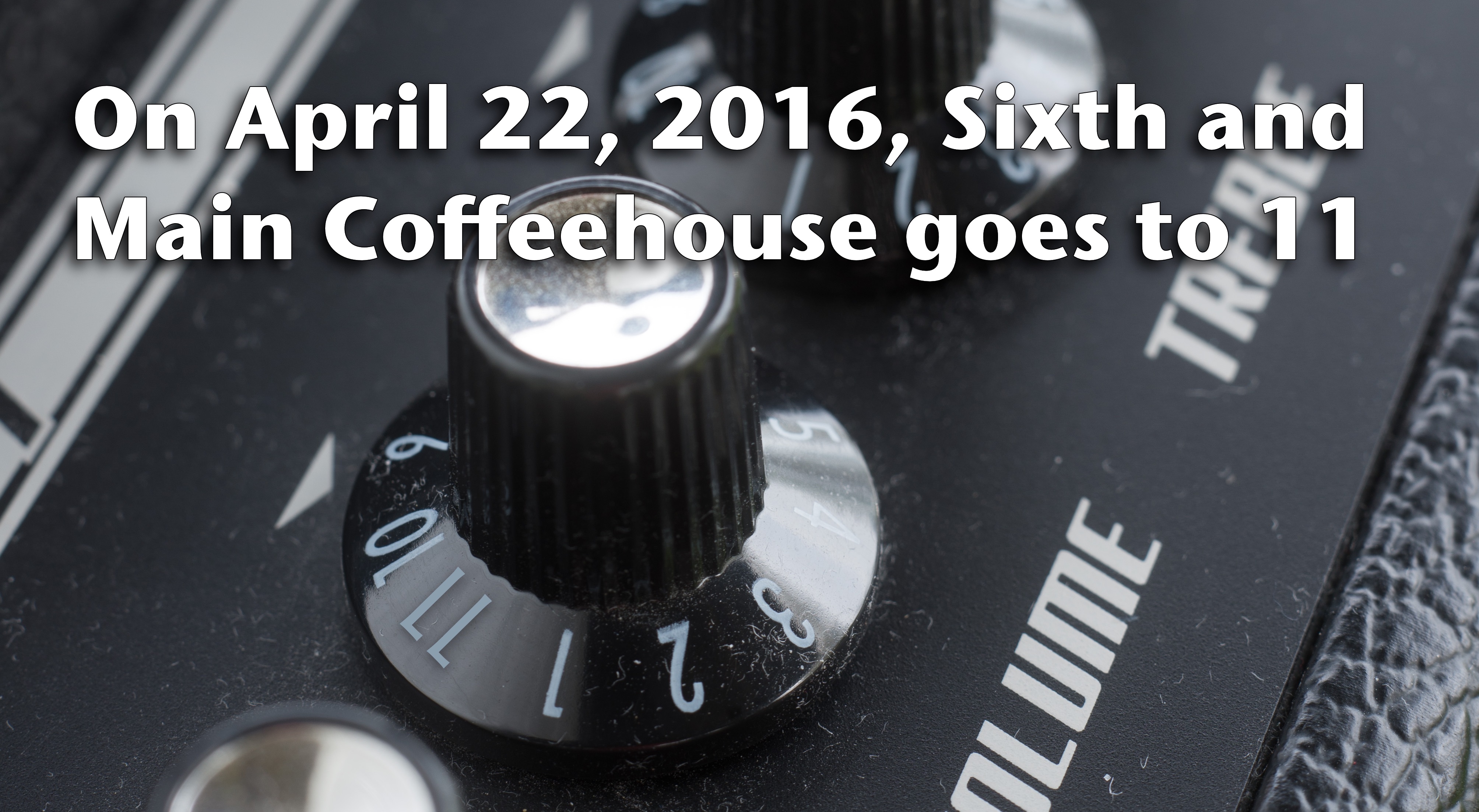 It has come to our attention

It has come to our attention that some of you haven't actually seen "This is Spinal Tap."

We're used to folks giving us "that look," when our ideas don't gibe with the general wisdom. We've often been asked, "You're going to open a coffeeshop? In Shelbyville?" "Why aren't you guys out by the interstate where all the customers are?" or, frequently, "What do you mean, you don't sell sandwiches?!"

So, it shouldn't come as any surprise to you that it never even occurred to us that some of you still haven't seen Rob Reiner's classic rock mockumentary "This is Spinal Tap." We just thought "Spinal Tap = Eleven," and that it was a perfect way to commemorate the 11th anniversary of Sixth and Main Coffeehouse.

The 1984 movie was called "culturally, historically, or aesthetically significant" by the Library of Congress in 2002. Even young Tommy has seen it, and that's our standard test to make sure we're not just waxing nostalgic about the 1980's. It probaby shouldn't come as any surprise to us that nobody pays any attention to the Library of Congress, or Tommy, either.

So, we're presenting this short clip from YouTube to add some context to our majestic ad campaign. Take a look at Christopher Guest as Nigel Tufnel and Rob Reiner as Marty Di Bergi in the famous scene that most fans of the movie can quote by heart.

Then you can follow Amy's lead in asking, "Is that your whole plan for marketing your anniversary?"