An Historic Location
The building at 547 Main Street in Shelbyville was constructed sometime around 1860, and has been home to numerous businesses over the years, including:
George Petry Drug Store (1878)
Logan's Drugstore
Slaughter & Goodman
Ransdell Drugstore
Briggs Mens Store (1930's)
Nancy Lou Shop (1950's)
Lawson's (?)
Hastings Confectionery (1960's?)
The Shelby News (1970)
The Reds Alert (1970's)
H&R Block (1976-2000)
Cafe Roma (2003-2004)
Sixth and Main Coffeehouse (2005- )
Special thanks to Debby M. at the Shelby County Public Library for this list of businesses and the following black and white photographs. Originals are on file at the Library.

Do you have information to add? Please let us know! Stop by for coffee, or send us an email using the link at the foot of the page.
George Petry Drugstore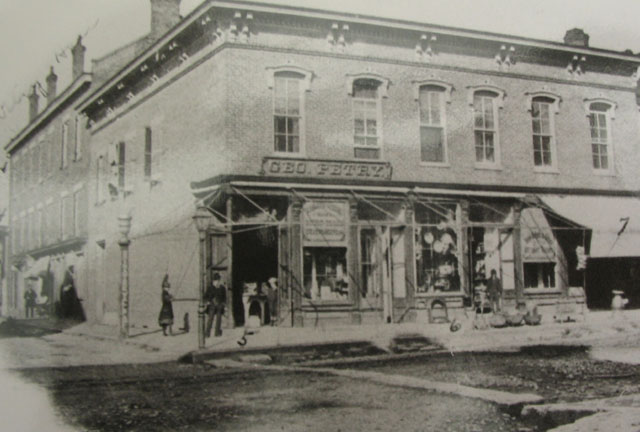 Early on, the building housed the Geo. Petry Drugstore. The back part of the building, along Sixth Street, was originally three stories. Only two were rebuilt after a fire in the early part of the 20th Century. The original entrance was on the corner of the building, and the metal frame for the awning is visible.
Logan's Drugstore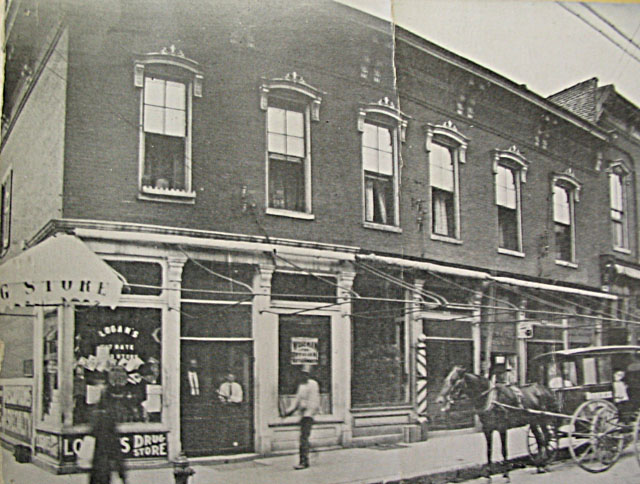 In this picture, the entrance has been moved to the center of the Main Street face of the building, and Crane's Barber Shop is next door.
Interurban Rail Line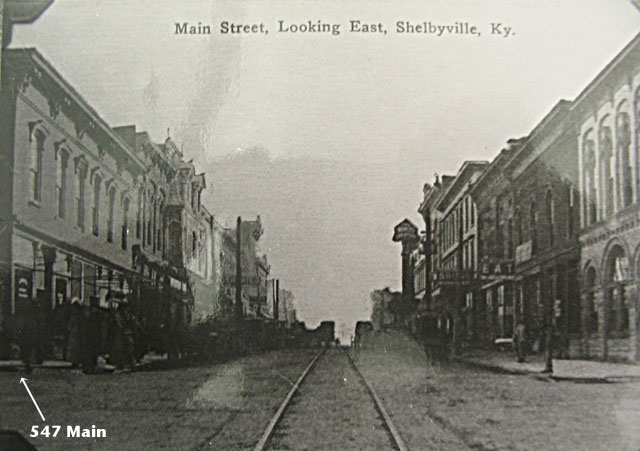 From 1910 until some time in the 1930's, an interurban electric rail line connected downtown Shelbyville along US60 with downtown Louisville. The line was apparently a source of great contention from the start. A great history of the line is available on the Kentucky Explorer web site. In this photo, the rail lines are clearly visible down the middle of Main Street.
Kirk's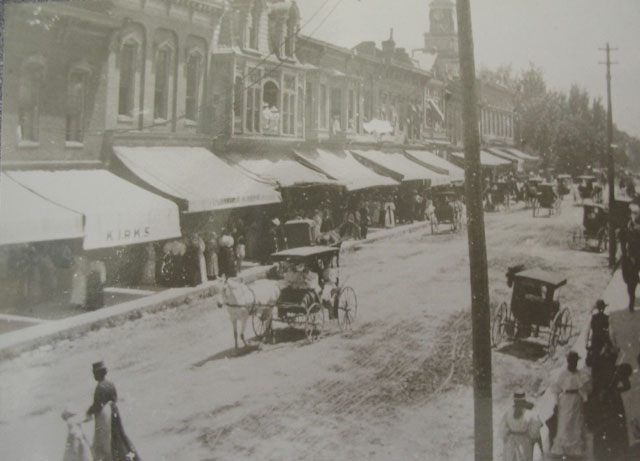 This photo of Main Street shows a business called Kirk's at 543? Main. In addition, both carriage and foot traffic are remarkably heavy.
Another early shot of Main Street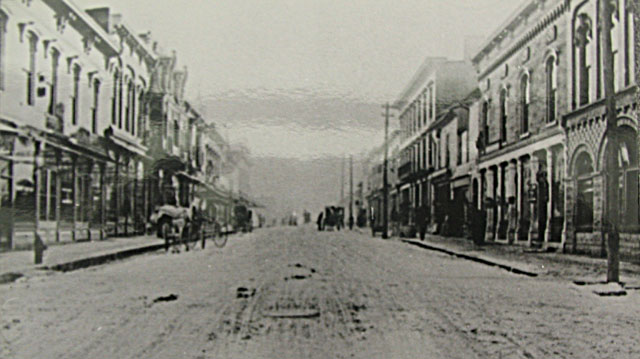 The Bank at the other corner of Sixth and Main

This photo looks West along Main Street and North along Sixth Street.
Corner Shot from higher vantage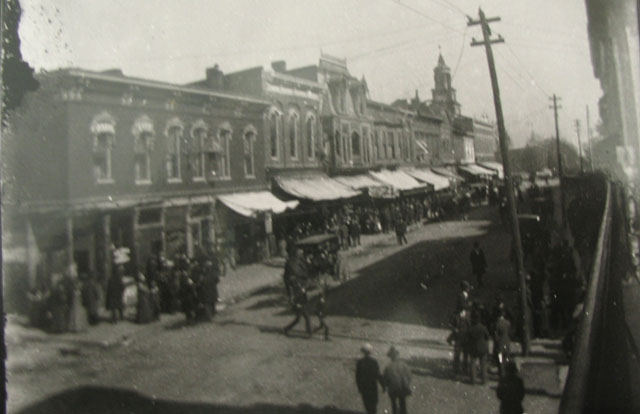 This older shot--probably taken from the Armstrong Hotel--again shows very heavy foot traffic on Main Street, and the original corner entrance to 547 Main.
Sixth and Main Coffeeshop, ca 2006
Here's a current early-morning shot of the coffeeshop, which now includes both 547 and 545 Main Street (the former Crane's Barber Shop).
Interior of Sixth and Main Coffeeshop, ca 2006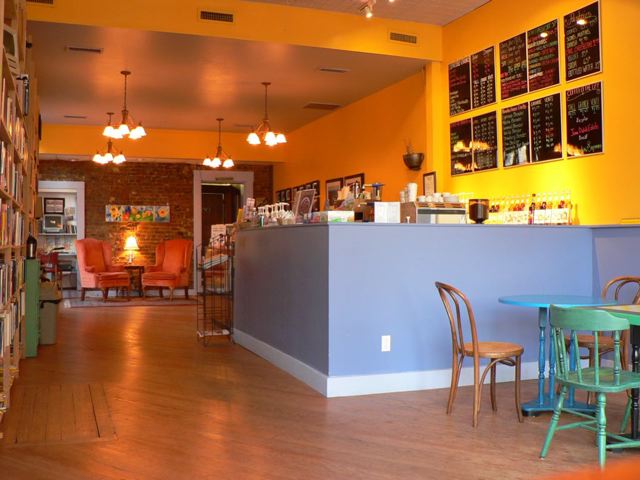 The inside of the coffeeshop, taken from the front corner.
Interior of Sixth and Main Coffeeshop, 2015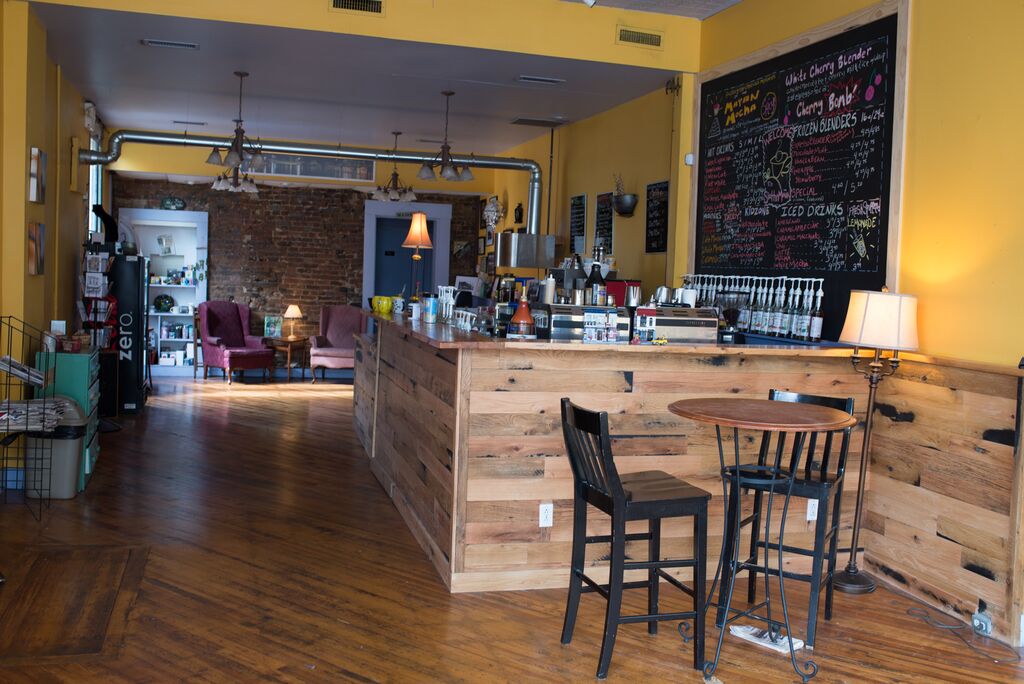 Interior of the shop after 2015 renovations that included refnishing the hardwood floors and resurfacing the bar.